Dried Lavender Gift Ideas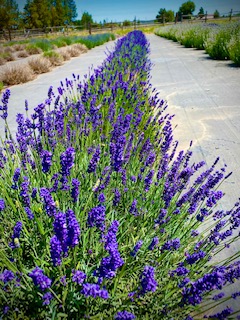 Fall has arrived in the Pacific Northwest with cool weather and that means the lavender fall harvest has started - but it does not mean that we can't still have the amazing herb part of daily lives.

No need to worry we will continue all year to distill our Organic Lavender Oil without the use of chemicals or pesticides to be hand poured into our body butters, facial oils, room mists, and holiday sugar scrubs - just to name a few.

Often thought of as a relaxing aromatherapy oil - there are so many ways you can incorporate the beloved lavender herb into cooking.

Here are a few recipes that I thought of while out walking in the lavender fields today that would make a wonderful gift to give this holiday season.
Lavender Sugar
Add 2 tablespoons of dried culinary lavender to 5 cups of sugar. Mix both ingredients in an airtight container and shake well – I like to use glass jars so I can see the lavender. Strain out the lavender and use in all your favorite cake, cookie, fruit, and drink recipes – makes a great holiday gift!
Wrap with a ribbon and scoop.

Lavender Lemon Bars
1 cup of flour
1 cup of granulated sugar
½ cup of butter softened
¼ powdered sugar
2 eggs
3 tablespoons fresh lemon juice
1 tablespoon lemon rind chopped
½ tablespoon dried culinary lavender
2 teaspoons baking powder
¼ teaspoon salt
Heat oven to 350 degrees. Mix flour, butter, and powdered sugar. Press into ungreased square pan – building up mixture ½ on edges. Bake for 20 minutes – should be a light golden brown. Blend remaining ingredients until light and fluffy for about 3 minutes. Pour the over the hot crust. Bake for another 25 minutes, until no indentation remains when touched lightly in the center. Cool and cut into squares – enjoy with Lavender Lemonade – recipe below
Wrap in parchment paper, bakery ribbon and place a sprig of lavender on top.
Lavender Shortbread Cookies
2 cups flour
¾ teaspoon salt
½ teaspoon baking powder
1 tablespoon of chopped culinary lavender flowers
1 cup butter
¾ cup of sugar
2 sprigs of lavender
Preheat oven to 300 degrees.
Blend butter and sugar till fluffy add dry ingredients. Gather into a ball and transfer to a light floured surface – knead until it just comes together about 5 times. Divide dough into half 5-inch disks – place on parchment paper. Refrigerate if dough needs to firm up. Score into 6 wedges by pricking with fork. Place a sprig of lavender on each piece and sprinkle with granulated sugar. Bake in the middle of the oven 20-25 minutes

Lavender Lemonade
1 cup of sugar
1 cup of water
1 tablespoon of dried culinary lavender buds
1 cup of lemon juice – 8 lemons
outside peel of 4 lemons – not the white yellow part only
To make the simple syrup start with 1 cup of sugar and 1 cup of water bring to a boil – reduce sugar amount if you are using Meyer lemons or if you prefer your lemonade less sweet. Seep 1 tablespoon of dried culinary lavender buds in boiling mixture until the buds lose almost all their color – strain out buds. Combine with 1 cup of lemon juice, and then add more water and ice to dilute the lemonade to your taste. Proportions will vary depending on how sweet and strong you like your lemonade, and how sour your lemons are to begin with. Late season lemons are less sour than early season lemons.
Bilanciea Skin Care
Organic Vegan Body Products Made Locally by
Licensed Aesthetician
in Small Batches
www.bilanceia.com
772 Jamacha RD Suite 206 El Cajon CA, 92019 619.985.4764